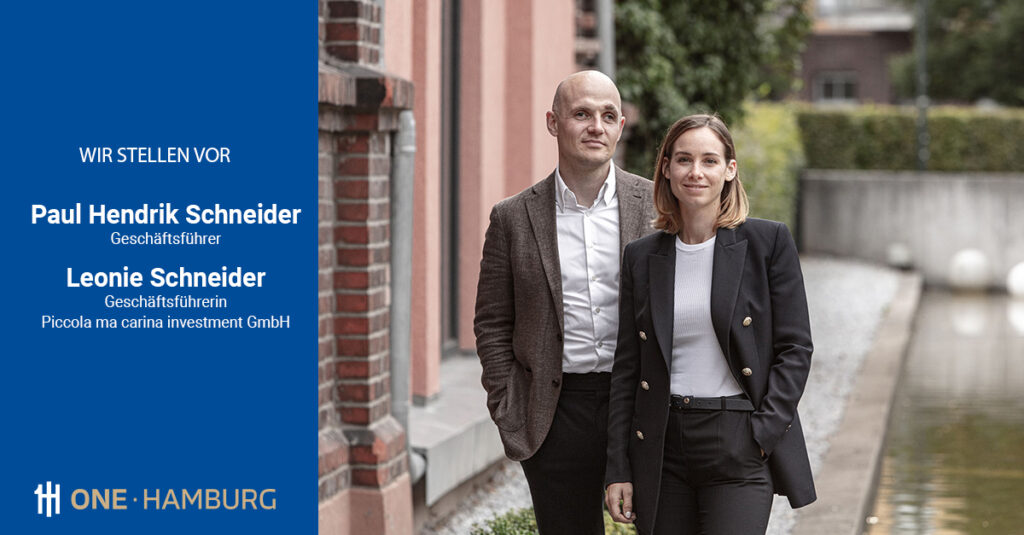 Today we are introducing a new issuer for whom we found the Düsseldorf – Kalkstraße project in the Wittlaer district. The project is an existing property dating from 1905, in which the existing residential units and a commercial unit are to be converted into a total of six residential units. The project is being realized by ONE Hamburg Projektentwicklung GmbH, which is part of Piccola ma carina investment GmbH. Piccola ma carina investment GmbH is a project development company that has set itself the task of "creating values that cannot be measured in money alone". In doing so, they make sure to "put people at the centre of all considerations and to plan and think through the living space perfectly". 
Paul Hendrik Schneider and his wife Leonie Schneider have been successful businessmen for many years and are well-known throughout the real estate industry in the Rhineland.
The career of Leonie and Paul Hendrik Schneider
During his studies in engineering with a focus on structural engineering and project management at the HafenCity University Hamburg and FH Münster, Paul Hendrik Schneider worked as a construction manager at MBN Bau AG and became assistant to the management at Hugo Schneider GmbH after successfully completing his Master's degree. 
As a project manager, he made a name for himself primarily with the prestigious WinWin projects for Düsseldorf's Medienhafen, a project consisting of high-rise residential buildings with 400 residential units and 300 underground parking spaces, as well as the Heinrich Heine Gardens at Frankonia Eurobau AG & Co KG, before subsequently becoming managing director of Frankonia Eurobau Heimathafen GmbH and continuing to oversee the projects. He was also managing director of AUREA Projektmanagement GmbH, a company that offers project management services according to AHO (Committee of the Associations and Chambers of Engineers and Architects for the Fee Regulations) as well as tendering, awarding and construction management according to HOAI (Fee Regulations for Architects and Engineers). 
In addition, Schneider is a member of the Düsseldorfer Jonges, a traditional association that is concerned with history, customs and social issues in the city. 
Leonie Schneider completed her studies in engineering with a focus on structural engineering and project management at the HafenCity University Hamburg and the University of Applied Sciences Münster. From 2016, she worked as a commercial project manager and managing director at FRANKONIA Eurobau. She was also responsible for the WinWin project in Düsseldorf. 
Due to her many years of experience in the real estate sector, both as a construction manager and as the managing director of a construction company, the project in Düsseldorf Wittlaer with its excellent location is a very good start for Paul Hendrik Schneider and Leonie Schneider in their first joint realization project. 
3 reasons why we offer this project to our crowd:
The project has an excellent location in an A-location and close to the Rhine
The calculations for new construction and refurbishment are, in our opinion, generously calculated
Mr. & Mrs. Schneider as project developers have many years of experience and make a competent and sympathetic impression
Copyright image: Peggy Stein und Andreas Hagemann