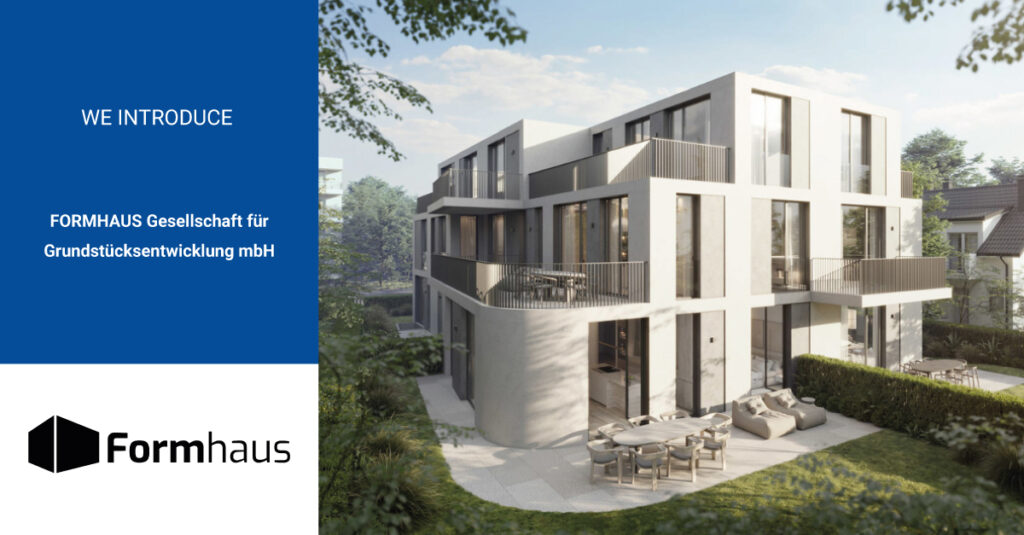 Today we are introducing another issuer: FORMHAUS Gesellschaft für Grundstücksentwicklung mbH.
The FORMHAUS Group is one of Munich's leading real estate companies. Founded in 1976 by Dipl.-Ing. Reinhard Alter under the name PLANTEAM, the focus at that time was already on the development of residential properties in the greater Munich area.
For over 40 years and in the second generation, a dedicated team of competent architects, engineers, project managers and real estate experts have been developing detached houses, semi-detached houses, townhouses and flats in selected locations in Munich and the surrounding area. While 136 properties were sold in Munich and the vicinity in 2020, the company purchased its 900th property in 2021. A total of 400 people work directly or indirectly with FORMHAUS.
Core competences of FORMHAUS
Through market knowledge and long-standing relationships, FORMHAUS is able to identify properties of stable value and develop them sustainably. High standards of quality and aesthetics, attention to detail and planning tailored to the client's wishes create optimal conditions. 
With the builder-model, the company provides full support to builders, i.e. from the purchase of a plot, to design and conception. In addition, FORMHAUS offers a high level of reliability, quality and security for all those who are looking for a competent builder. The company takes over the entire process between planning, personal consultation and turnkey realisation of every dream property.
What about sustainability and social commitment?
The company cites sustainability and lasting value as the two most important factors for success. Thus, the focus in the creation of high-quality living space, which should always offer security, is on the use of natural and sustainable materials. In the planning and implementation of new construction projects, FORMHAUS relies on solid construction.
In addition, the company maintains a successful cooperation with Eden Reforestation Projects, a globally recognised non-profit organisation that is committed to area-wide reforestation and the creation of jobs for destitute people. In addition to regular donations, FORMHAUS has committed to planting 10 trees for every new newsletter sign-up.
In terms of social commitment, the company also supports Roma children in Romania on a financial basis and cooperates with the non-profit organisation Kinderhilfe für Siebenbürgen e.V. (Children's Aid for Transylvania), which plans and implements projects with a focus on school care, foster families and family support.
Why we work with the FORMHAUS Group
As a project developer, the FORMHAUS Group has extensive and long-standing expertise, and is particularly well established in the Munich real estate market. This expertise has already benefited our investors: in October 2020, we placed the attractive new-build project Munich – Hofanger of the issuer FORMHAUS Wohnbau Hofangerstraße GmbH & Co. KG, which is part of the FORMHAUS Group. The co-financing of the project was successfully guaranteed by our crowd in a very short time. With this project, our investors benefit from an annual fixed interest rate of 6.0 % with a term of 24 months.
Copyright Rendering: Formhaus Wohnbau Hofangerstraße GmbH & Co. KG